Situated in the bank of river Yamuna and one of the most imperial places of the Mughal Dynasty, Agra is a great place to visit. Culturally and a World Heritage site, the city is just 378 km from the capital and is well connect. Filled with all sorts of wondrous monuments and history, here are 10 best places you can go for same day Agra tour.
Taj Mahal
Straight out of the fairy tales, Taj Mahal is one place you have to be if when you are in Agra. An epitome of love build by the great Mughal emperor Shah Jahan for his beloved Mumtaz, the Mughal mausoleum is surely going to take your breath away. Situated just on the bank of Yamuna river, the intricate details on its white marble body pretty much sums up the whole beauty of it. While availing Agra tour packages, make sure you visit the Taj Mahal without which your trip will be incomplete.
Agra Fort
One of the finest forts of the Mughals and a former residence, Agra fort is great place to visit. The fort was captured by the Mughals from the clan of Rajputs upon their decision of shifting their capital city in the year 1558. This spectacular fort is completed with mosques, private and public halls, courtyards, palaces and towers. The main attention of the fort is the evening light and sound show where the whole history of the fort is recreated.
Memtabh Bagh
Also known as "The Moonlight Garden", Memtabh Bagh gives you a beautiful yet different perspective of Taj Mahal. This garden complex is located just opposite the monument and has been maintained professionally. Therefore, you can enjoy a good time among the pretty flowers with your close friends.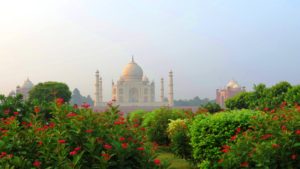 Old City Market
The true soul of a city lays in its narrow lanes, tangled roads and crowded streets that lead you to its heart i.e. the market. The Old city of Agra is a must visit, if you want to peek into its core. From fabulous marble works and traditional art and craft to saris, clothes, spices and jewellery, Kinari Bazaar of the Old city is a must visit.
Fatehpur Sikri
Located one hour west of the city of Agra, Fatehpur Sikri was a proud capital of the Mughals during the 16th century. A popular historical destination, every pillar of the fort has a story to tell.
So without much ado, pack your bags and go for one day Agra trip.