With just a few miles away from the capital city, the former Mughal capital city can be a fantastic weekend getaway from your hectic mundane life. Historically rich, you not only get to go on a short trip away from all the work pressure but also get in touch of the greatest historical empire. There are number of weekend getaway Agra Tour packages that you can avail while planning to go there. From lodging to food, sightseeing and commuting everything will be taken care of. All you need to do is pick a weekend and get ready for the experience.
Epitome of Love
The city of Agra has become synonym to the epitome of love, the Taj Mahal. Living up to your every expectation, the majestic beauty is something that cannot be defined. While availing Agra packages, this is one place you will surely visit. The mausoleum is made of white marble bricks which enhances its beauty during the dusk and dawn. Described as "a teardrop on the cheek of time by great poet Rabindranath Tagore, this place will definitely give u the peace you are looking for in your getaway.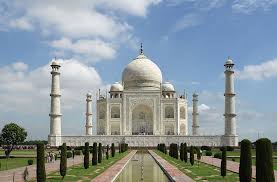 Follow the Mughal Architecture Trail
Shifting your attention from the beauty of Taj, you can follow the Mughal architecture trail by visiting Agra Fort and Fatehpur Sikri. Recognised by UNESCO as World Heritage Sites, both the monuments are magnificent. Shaped in the form crescent, the fort constitutes of Diwan-i-Aam, Diwan-i-Khaas, Jahangir's Palace, Sheesh Mahal and various other attractions.
Fatehpur Sikri, also called 'City of Victory' similarly comprises of number of mosques, public buildings and palaces. You can enjoy the essence of the city in these two great Mughal monuments.
Things to Purchase
Just like the city, the bazaar of Agra is famous for its heritage and culture. The intricate handicraft, marble work, handicrafts, soft stone and various products can be bought from the market as a souvenir. Zardosi cloth pieces, dhurries, leather items, itar, and carpets ate some of the additional items that   you can buy here.
You can get affordable Agra tour packages and get to enjoy new things about this rich place every weekend of yours. Just take out some time from your schedule and have a great stay in the city.
Absolutely safe, the people are very cooperative and you will surely enjoy yourself and have the fun of your life here.